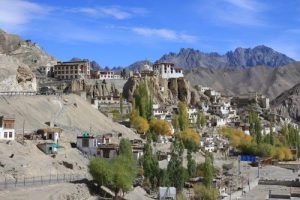 Ladakh is one of the most popular destinations. Especially for Road trips and Photography. However, being a mountain destination few things need to be kept in mind before planning Ladakh trips.
There is less (or No) connectivity in Ladakh: One thing to be kept in Mind that prepaid sim from other parts of India will not work in Ladakh. Also, only 3 operators have connectivity in Leh i.e. BSNL, Airtel & Aircel. However, Airtel & Aircel have a poor presence in another part of Laddakh. So it is advisable to have postpaid BSNL connection for Ladakh trip. Also, BSNL network available only after you reach Leh. So there is no connectivity on Manali-Leh highway except satellite phone.
Altitude Mountain Sickness: Leh is at 10,000 ft. above sea level, so there are chances of AMS. So it is advisable to take medicines 2-3 days before you arrive in Leh. Diamox is preferable for AMS. You can take it after consultation with your doctor. If you are suffering from High blood pressure then it is not advisable to visit Ladakh. If you are traveling by air, you must take one day rest at Leh in order to accumulate your body.
Try to look good: It's obvious that everyone wants to look good when traveling. So list the personalized jewelry you want to wear and keep them in a safe environment. If you don't have suitable ones, can get some from here https://www.ineffabless.com.au/personalised-necklaces/russian-ring-necklaces.html  It has the best collection of jewelry you can invest in.
Limited availability of ATM & Petrol pumps: ATMs & Petrol pumps are available in Leh but outside Leh, you will not be able to find it. It is advisable to carry enough cash & Petrol before you start your journey. Most of the bikers keep extra fuel before leaving Manali. So they don't get any problem in between.
Keep medicine handy: In a case of high altitude places such as Khardungla pass. People often complain about a headache etc. It is advisable to keep medicine handy. Carry leap balm in order to protect your lips. Keep chocolates and peanuts with you, it will help you to maintain your sugar level.
Don't smoke & take alcohol: since it is at high altitude it is advisable not to smoke and drink. Don't try to run fast since air is thin you will get tired easily because of lack of oxygen.
Keep your gadgets update: Since majority destinations are far from Leh, you have to keep your power back ready. Charge your laptops, cameras, etc. Keep the extra battery for the camera. I advise you to install Here maps because it works offline so you won't have to rely on GPRS signals.
Keep copies of Document and IDs: There are many areas for which you required an inner line permit. So it is advisable to have a couple of copies with you so that you don't have to hassle when it needed. Also, recommended having copies of hotel reservation document and the list of important contact numbers with you.
Keep buffer time if you are traveling by road: Being situated in mountain range sometimes due to snow many highways get blocked and resulted in a delay so it is strongly recommended to have buffer days for your trips so that you can enjoy your trip.