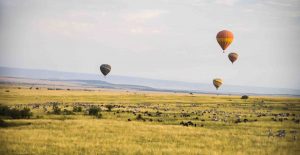 I am a bit fortunate being traveling included in Job Profile, you always being ended up to visit some great destinations of the world. I was in Nairobi, Kenya. I think the only fool can miss the chance to visit Masai Mara national reserve.
Masai Mara name it self-gives glimpse of its nature. It is located on Mara river and home of Masai People. Masai Mara National Reserve is an area of preserved Savannah wilderness in southwestern Kenya, along with the Tanzanian border. Here's animals include lions, cheetahs, elephants, zebras, and hippos. Wildebeest traverse its plains during their annual migration. The landscape has grassy plains and rolling hills and is crossed by the Mara and Talek rivers. The area nearby is dotted with villages of Masai people.
Planning and Booking the trip:
Being one of the most visited tourist destination, One can book easily through online.There are many tour operators available for the same. Visa on arrival option is available in Kenya so that makes the travel easier. Many tour operators directly start their trip from Jomo Kenyatta International Airport, Nairobi. Due to safety reasons, it's advisable to go with tour operators instead of renting private cars and going alone unless you are familiar with the area.
Different packages are available to select for tourist. Price varies based on the number of travelers per trip, type of accommodation, days and time selected to travel. Negotiation in rates and services is easily possible.
Best time to visit
As Masai Mara is very famous for wildebeest migration, which happens in July – October. These are the best time to visit Masai Mara. Though it's always a good time to visit this place except for rainy season.
Accommodation
Different options are available for accommodation. Cheapest one is Dom tent. In addition to that, luxury camps (permeant tents), lodges and clubs are also there. Though you are actually staying in the jungle, you will get all the modern facility.
1st Day of trip
We have started our trip early in the morning 8:00 AM from Nairobi with the group of 8 people. It's 279 Km (5 to 6 hours) by road from Nairobi. One may select flying package, where private Jet drops one to Masai mara in less than an hour time. However, whats the point in going through the private jet and ignoring beautiful landscape? Side views covered in road trips can give you more happiness than jet ride. Roads passed through hilly areas. We had covered glimpse of "mount suswa conservancy"
We reached the campsite at around 2:00 PM afternoon. There are so many camps available to be selected with different facilities and prices though you have to book it at the time of planning itself. All the camps are outside the reserve area. I selected Ol Moran Tented camp. It looks like traditional African hut from the outside. Thatched grass roof gives it a classy touch. All the necessary facilities are available in the camp. The staff is so cooperative and friendly.
There is no electricity supply in Masai Mara area. However, the camps provide it through the generator in evening time up to 10:00 PM and in morning time before sunrise. Vegetarian food is available on demand only so it's better you give your requirement at the time of booking itself and confirm with the operator to avoid further problem.
After taking rest for an hour, we had started our trip to the national reserve. The land of green grass with small hills and rough muddy roads is enough to make one feel the jungle. Elephants, Zebras, Wildebeests, Deer, Giraffes, Thomson's gazelle, wild buffalo are easy to find there, no matter which part of the jungle is being visited. You might have seen them in the zoo but the feeling to see them in the free environment is totally different.
Area of Masai Mara is 1510 Km2, So it is not easy to find all the wild animal in 3 days visit itself. Guides try their best to do the same. All the drivers are very considerate to let the others know via radio walkie-talkie when they spot something interesting. Luckily, on the first day itself, we got the chance to see hunting of a buffalo by a lion. Due to sunset, we had to leave hunting in between, as tourists are not allowed to stay in reserve after sunset.